Description

WHY SWELL?
Pre-workouts are the most popular category in all of sports nutrition and for good reason – they help people push themselves to the max each time they step into the gym. For every person looking for the latest and greatest stimulant-packed pre-workout that could cause an elephant to get tremors, another person is wishing there was a solid and clean stimulant-free pre-workout that could help them improve their mental and physical performance during training. Well, there is. It's called Mammoth SWELL.
Mammoth SWELL is a glimmer of hope to those who are sensitive to stimulants or who train in the evening and still want to be able to fall asleep relatively quickly and easily. In a world full of maximum doses of caffeine, SWELL caters to those who are dedicated yet want a clean source of energy without the sudden and abrupt crash.
WHO USES SWELL?
Mammoth SWELL was designed to be used by both men and women, regardless of if you are an elite athlete, a recreational lifter, or somewhere in between. When searching for a pre-workout without the use of heavy stimulants, Mammoth SWELL is the answer. This great-tasting pre-workout can help push you through the most grueling workouts. With the ability to increase your mental and physical performance, no PR is too far out of reach. With specific ingredients added to help enhance your pump, mental focus, cognition, and muscle-building potential, you'll never want to train with anything else..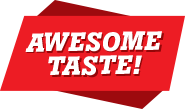 Mammoth SWELL is available in 2 FUN-Licious flavours, SOUR CANDY & TROPICAL FRUIT BLAST!
The flavour profile of a product is extremely important. In fact, it can make or break a product. We want to bring to market great flavours that leave you wanting more – and we've achieved that. Mammoth SWELL is available in two mouth-watering flavours, Sour Candy and Tropical Fruit Blast that will have you craving your next serving.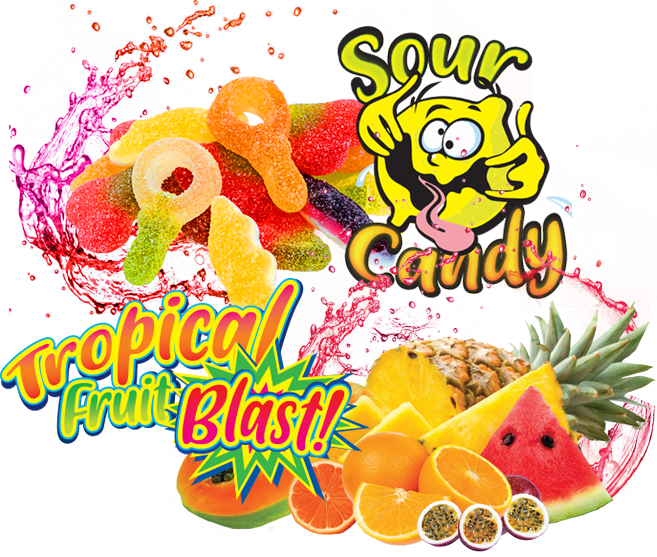 Flavours avaialble: Sour Candy, Tropical Fruit Blast
How Much to Use?
When to Use?
Mammoth SWELL is the pre-workout to get you through the most intense workouts, without the use of any stimulants. You can play with the amount of water used to strengthen or weaken the flavour to your personal preference. Additionally, you can use Swell anytime you need a boost in your performance and cognition***
Suggested Use : Combine 1 scoop with 10-12 oz of water, mix well, and drink or sip.
When to use? :  Pre-Workout: consume one serving 20-30 minutes before exercise.
When to use? :  Anytime: consume one serving anytime a boost in performance and cognition is needed.
*** This general information is not intended to diagnose any medical condition or to replace your healthcare professional. Always consult your physician before beginning any exercise, nutrition, or supplement program
Hard Hitting Pre-Workout Without the Crash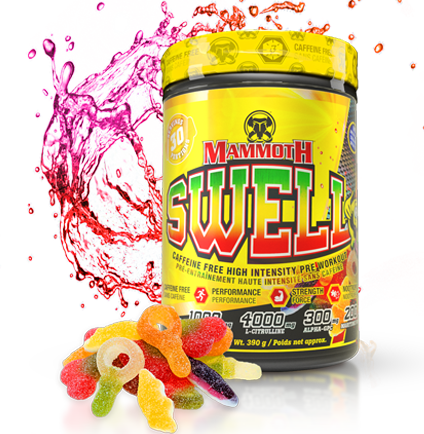 SWELL is a complete pre-workout that utilizes the power of performance-enhancing ingredients along with nootropics to provide you with a dominant one-two punch so you can knock out your workouts. With ingredients like Citrulline Malate, Glycerol Monostearate, and Agmatine Sulfate kickstart the formula, you have the ability to increase blood flow, transport key nutrients to the working muscles, enhance muscular pumps, boost performance, and prime your body for accelerated muscle growth.
This hard-hitting stimulant-free pre-workout utilizes extremely specific ingredients in precise doses to amplify your mental and physical performance. .
Mammoth thought of it all when it came to this pre-workout formula. It's because of the attention to detail that you can experience some of the best workouts and results from your efforts.